Handicraft marketplace app 'Idus', cumulative sales exceeded 1 million
---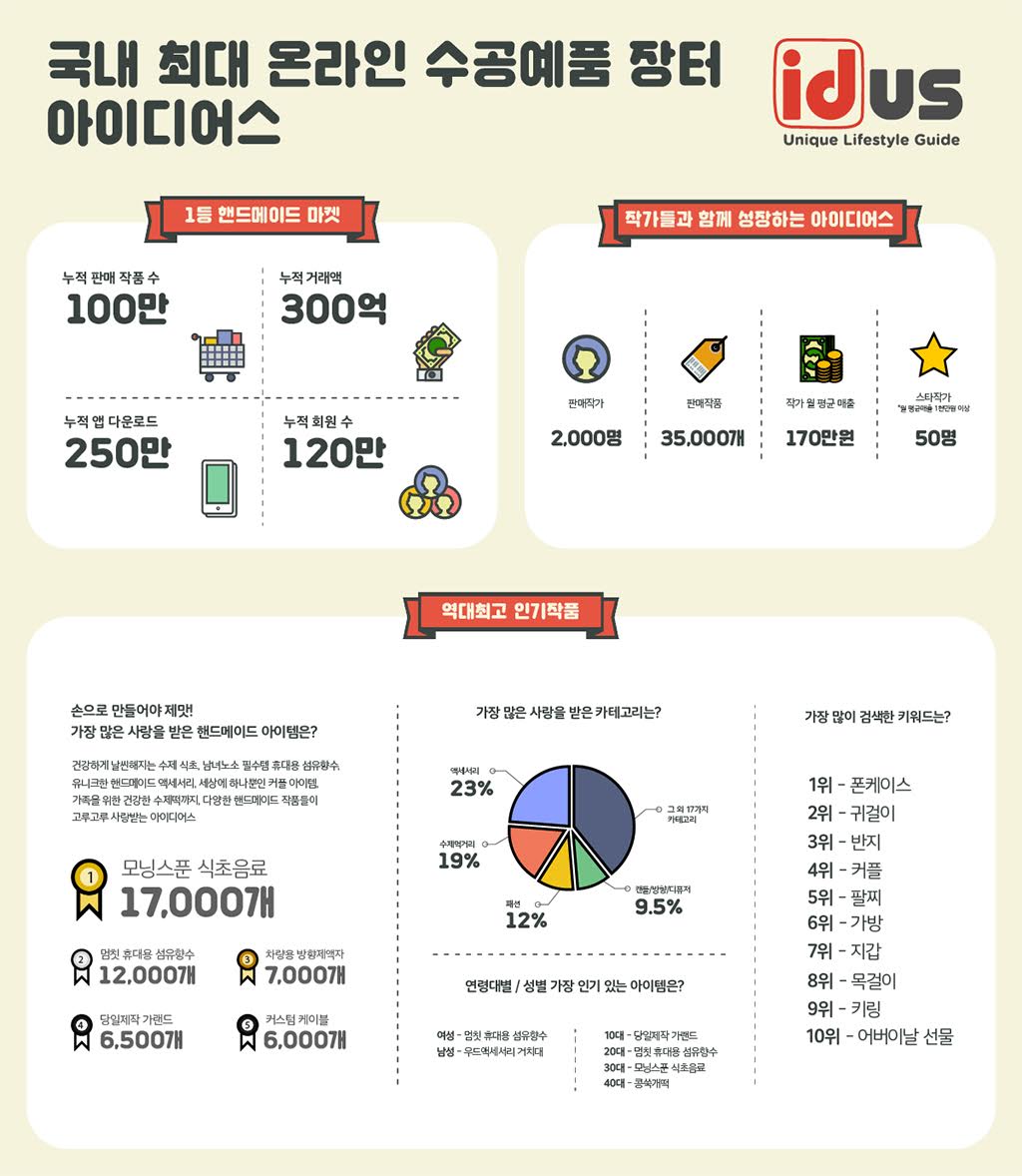 Backpacker, the Korean startup that runs a leading handicraft marketplace app 'Idus' announced that Idus has exceeded 1 million cumulative sales volume and cumulative transaction value of 30 billion won.
With the launch of the service in June 2014, 'Idus' has more than 2,000 writers (producers) on the platform, producing accessories, leather crafts, ceramics, natural soap, and handmade items. It is the biggest handicraft market in Korea.
Here is the list of items sold. ▲ Accessories (23%), handmade items (19%), fashion goods (12%), fragrance and aromatic products (10%). Among the single items, 7,000 vinegar drinks were sold and twelve thousand portable fiber fragrance were sold, which marked the best-selling item.
Also, portable fiber fragrance item was the best-selling item for female users, while wood accessory cradle was the best-selling item for male users. In terms of age, teens bought garland the most, ones in the twenties bought portable fiber fragrance the most, those in thirties bought vinegar drink the most, and for those in forties, found soybeans rice cake products most attractive.
This year, 'Idus' has recorded monthly sales and transaction volume of 100,000 and 2.5 billion won, respectively, and has exceeded 2.5 million app downloads so far.
Kim Dong-hwan, CEO of Backpacker said, "the basic idea of 'Idus' is to create a platform for handicraft artists who have had hard time promoting their products and find path of purchase", and then continued to say, "we will always communicate with the public to become a platform to make a trend together. " .
---