Korean NFC Attracted 3 billion won Investment in Japan, Cumulative Investment of 5.5 billion won
---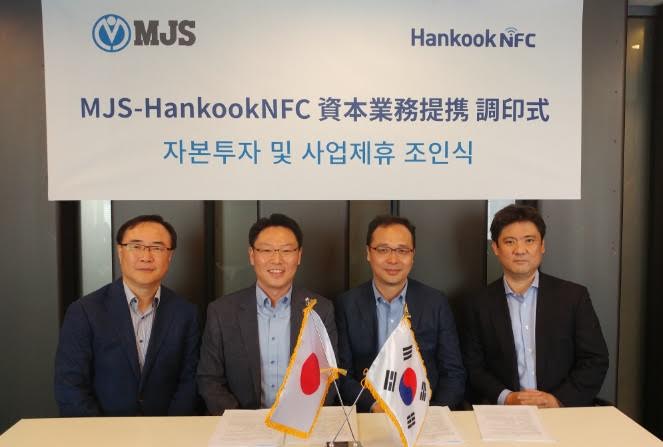 NFC-enabled mobile card payment system and authentication service provider Korea NFC secured a total investment of 5.5 billion won.
Korea NFC announced on July 17 that it has made a strategic partnership with MJS (MIROKU JYOHO SERVICE, CEO Hiroshi Koreada) of Japan for investment of 3 billion won and service alliance. This is the result of a decision to discuss investment contracts with the Born2Global Center in Tokyo on November 11th.
This time's investment is the first overseas investment that Korea NFC attracted following investments from KDB Capital and L & S Venture Capital last year.
"Apple Pay is very popular in Japan, but NFC readers are not available except for the subway and some convenience stores," said Hwang Seung-Ik, CEO of Korea NFC. He also said, "with our service, merchants will be able to accept payments with Apple pay, credit card, and digital money payments, simply by installing the phone2(to)phone payment app, with no need to replace POS. This will revolutionize the Japanese payment market."
MJS, which invested in Korea NFC develops and sells Japanese financial accounting system and management information service. MJS Finance & Technology, which is a subsidiary of MJS Finance & Technology, has been established to enter the Fin-Tech business. It is also listed on Tokyo Stock Exchange.
MJS will utilize the patented technology of Korea NFC to supervise the services and businesses such as launching and sales and marketing of the phone 2 phone settlement service in Japan and will also cooperate with the promoting of phone 2 phone settlement service in Asia.
In the Japanese market, the credit card payment rate is still very low at 17%.
Due to high credit card commission fees, small-size shops generally do not accept credit card payments. This lack of credit card infrastructure is thought to be the most uncomfortable aspect for the foreign tourists during the Tokyo Olympics in 2020, which is why the Japanese government and credit card companies are making aggressive efforts to renovate the industry.
In the future, Korea NFC will provide technology and service development, so that small-sized business owners or self-employed people can conveniently accept Apple pay with their smartphones without the need of a separate POS or NFC dongle.
---