[GMIC2014] Going Global or Going China?
---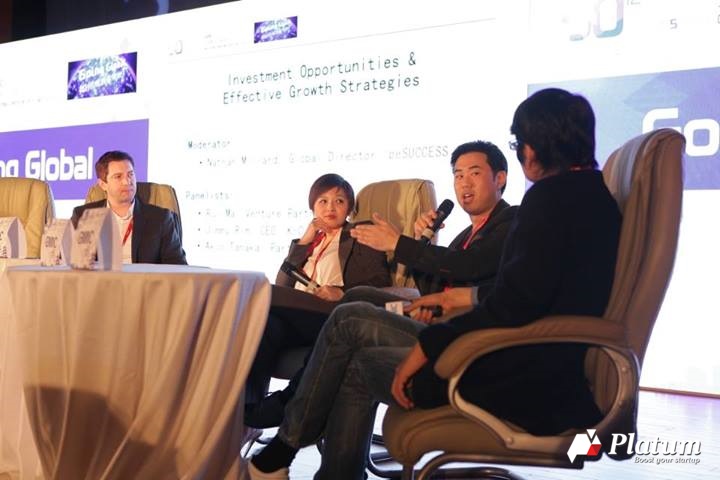 Three venture capitalists convened at GMIC, a China-focused tech conference held in Beijing early this month, to discuss the latest investment opportunities and effective growth strategies in Asia. The panelists included Rui Ma (Venture Partner, 500 Startups), Jimmy Rim (CEO, K-Cube Ventures), and Akio Tanaka (Partner, infinity Venture Partners), with Nathan Millard (Director, beSUCCESS) as the moderator.
It was fairly clear that all investors came to the conclusion that China is the next "biggest opportunity". Akio pointed out that according to research on startup activities there are two major startup-circles globally, with their centers of gravity in US and China. That explains why an early-seed fund well-established in US, 500 Startups, opened up a shop in China last year.
Contrast to prevalent pro-China sentiment, Jimmy advocated for a different investment strategy—local investors should focus on their home-market first. He strongly promoted Korea as the next startup-hub, with top-tier engineers at relatively low labor cost, good IT infrastructure, and a sizable market with many active users. At the end, however, he also conceded that China is where the next opportunity is, due to the sheer volume and number of startup activities taking place in China.
Investment opportunities in US were discussed briefly, but all agreed that local VCs need to prioritize focusing on local startup ecosystem and developing regional liaison. However, the opinions diverged in regards to startups' going-global strategy. 500 Startups with presence in both Asia and US was in support of capturing global market, offering hands-on help in exploring the other side of the globe. K-Cube advised that tech-based companies should target the global market at their early stage, but was not in favor of overly ambitious overseas expansion plans.
The question whether venture capital and startups are becoming more globally integrated will not be answered immediately, but Asian startups and investors definitely are beginning to collaborate more closely with China being the main stage.
---