QARA Moves to Seoul Fintech Lab a Second Time
---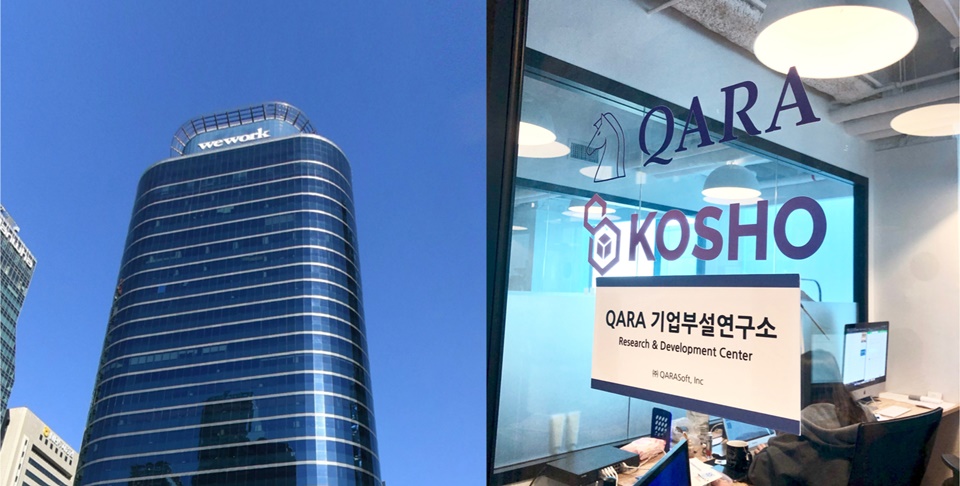 Fintech startup QARAsoft (CEOs Luke Changhwan Byun and Katie Bomi Son), which utilizes AI deep learning technology to run a robo-advisory app called KOSHO and a web-based service called What Is Fund (Whatisfund.ai), announced that it will move office to Yeouido as part of a partnership program with the Seoul Metropolitan Government and WeWork. QARAsoft was also part of the fintech hub at Mapo that was supported by the Seoul government last year.
The 2nd Seoul Fintech Lab, which is located on the sixth floor at Yeouido WeWork, held an opening ceremony on July 4th. Both the Seoul Metropolitan Government and K-Startup attended the event. This second fintech lab has been a project that the government had been pushing to address the shortage of working spaces for fintech firms in South Korea. Their first project was creating the Fintech Startup Hub at Mapo last year, as part of their goal to revitalize the local fintech industry and prepare a growth platform for financial unicorn companies.
Seoul Metropolitan Government announced a selection of 14 total domestic and global firms to move their offices to the second fintech lab. Each firm had gone through an in-depth screening process that determined their growth potential and weighted their technological innovation, employment status, and investment attraction of at least 100 million won as well as sales of 100 million won each year.
Among the selected companies are MDAQ, which utilizes AI deep learning technology to provide foreign exchange system in Singapore; Quarterback Technologies, which provides global asset distribution solutions; and Dlemon, which is an insurtech firm that focuses on sustainable development.
These firms will receive a free office space at the Yeouido WeWork for up to two years. Each office space will fit up to 6~20 people. What's special about this program is that in addition to gaining access to WeWork's wide global networks (27 countries, 100 cities, and 425 branches), each company will also have support from the Seoul Metropolitan Government and K-Startup Program. Supports include corporate activities such as incubation, mentoring, networking for domestic and foreign financial firms, funding consultation, and IR overseas.
"Our new location is at the heart of Korea's financial industry, which means that we have the optimal chance to develop our business," says QARA's CEOs Luke and Katie. "We hope that through the government support of mentoring, chances for global expansions, and collaborating with other fintech firms will give us a concrete result to progress our business forward."
Meanwhile, the Seoul Metropolitan Government is planning to expand the fintech lab to additional three floors at the Yeouido WeWork office.
---