Chinese Online Show Platform 9158 Plans IPO on the SEHK
---
Tian Ge Interactive Holdings Ltd., the parent company of online video broadcast platform9158.com, files for IPO on the Hong Kong Stock Exchange to raise up to HK$1.6 billion (US$210mn).
The company was founded in 2008 by Fu Zhengjun. Before Tian Ge, Fu developed an online video chatting room service that allowed up to ten people in one session.
In November 2008 Tian Ge launched a real-time video broadcasting site, 9158.com, which would become an online amusement park comprised of online show performers, third parties — performer agents, show room/channel owners and show distributors, and audiences.
Unlike the brick-and-mortar amusement park who sells tickets or other physical goods to make revenues, 9158′s revenues are primarily from virtual gift sales. As of the end of 2013, 910 virtual items had been created for users to purchase to reward performers. An average of 5.7 billion gifts were sent out monthly in the year. 9158 the platform, performers, and third parties share the total revenues. A mobile version of 9158 was launched in August 2012.
In 2010 Sina, one of the largest online news portals in China and former owner of Weibo, invested US$10 million in Tian Ge and transferred the unsuccessful UC, the instant messaging service developed by Sina, to the latter. Tian Ge would then launch Sina Show, the same with 9158.com.
As Tian Ge is based in Zhejiang Province in the eastern coastal area of China, the audiences of 9158 are from second- or lower- tier cities in Central and Southeast China. The addition of Sina Show brought Tian Ge users from North China who would turn out to contribute a larger percentage of revenues to the company than their peers on 9158 from 2012 — Tian Ge concludes that users on Sina Show make higher monthly salaries. In 2013 Sina Show contributed 42.4% of the total revenue while 9158 accounted for 35.3%.
The company made RMB384 million, RMB456 million and RMB548 million (US$88mn) in 2011, 2012 and 2013, respectively.
In November 2013, total users on Tian Ge platforms reached 200 million. The audiences are aged from 18 to 30. There were 577,000 performers with 26, 000 show rooms, 270,000 paying users and 10.8 million monthly active users, as of December 2013. Active users spent an average of 20 hours each month.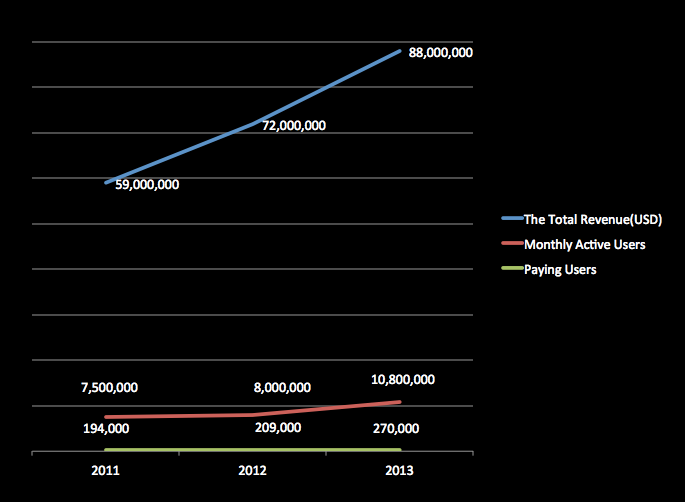 The business model would then be adopted by many Chinese Internet companies, from traditional online video site 6.cn, digital music provider Kuwo, to video chatting service YY. YY went public on the NASDAQ in late 2012 and so far its major revenue source has been virtual item sales.
Tian Ge claims, citing a report by research company iResearch, that it has the largest market share in China' s online video broadcasting market, 33.9%. But YY made way more money than Tian Ge in both online video show and total revenue in 2013 — In the previous year YY made way less from online shows than Tian Ge though. With 700 million registered users,YY made US$141 million in online shows, 60% higher than Tian Ge's and another US$99.5 million from gaming in 2013.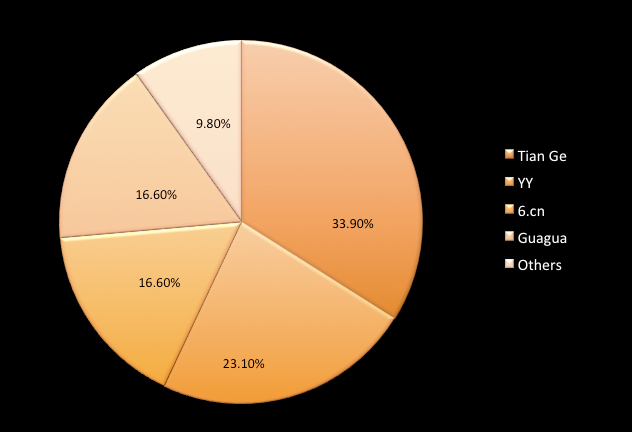 Beginning with singing shows, both YY and Tian Ge have been expanding to other forms of entertainment performance, gameplay broadcasting and online education. While YY moved earlier that introduced gaming as another monetization approach, Tian Ge added a mobile game San Guo Zhi, licensed from a third party, in 2013. 6 to 8 licensed mobile games will be launched in 2014, Tian Ge said. The company expects more monetization approaches, such as monthly premium service subscriptions, will work too.
The founder once said the company would go for IPO in the U.S. Commenting on the change in the place, the management said that the online show business will be better understood by Asian investors, as reported by NetEast (report in Chinese). It's true there're similar services in other Asian countries such as South Korea and Japan.
Apart from the investment from Sina, the company previously raised funding from Squared Venture Capital and IDG-ACCEL China. Sina now is the second largest shareholder in the company.
---