Korea's Top Startups to Face Off at Global Demo Day in Seoul
---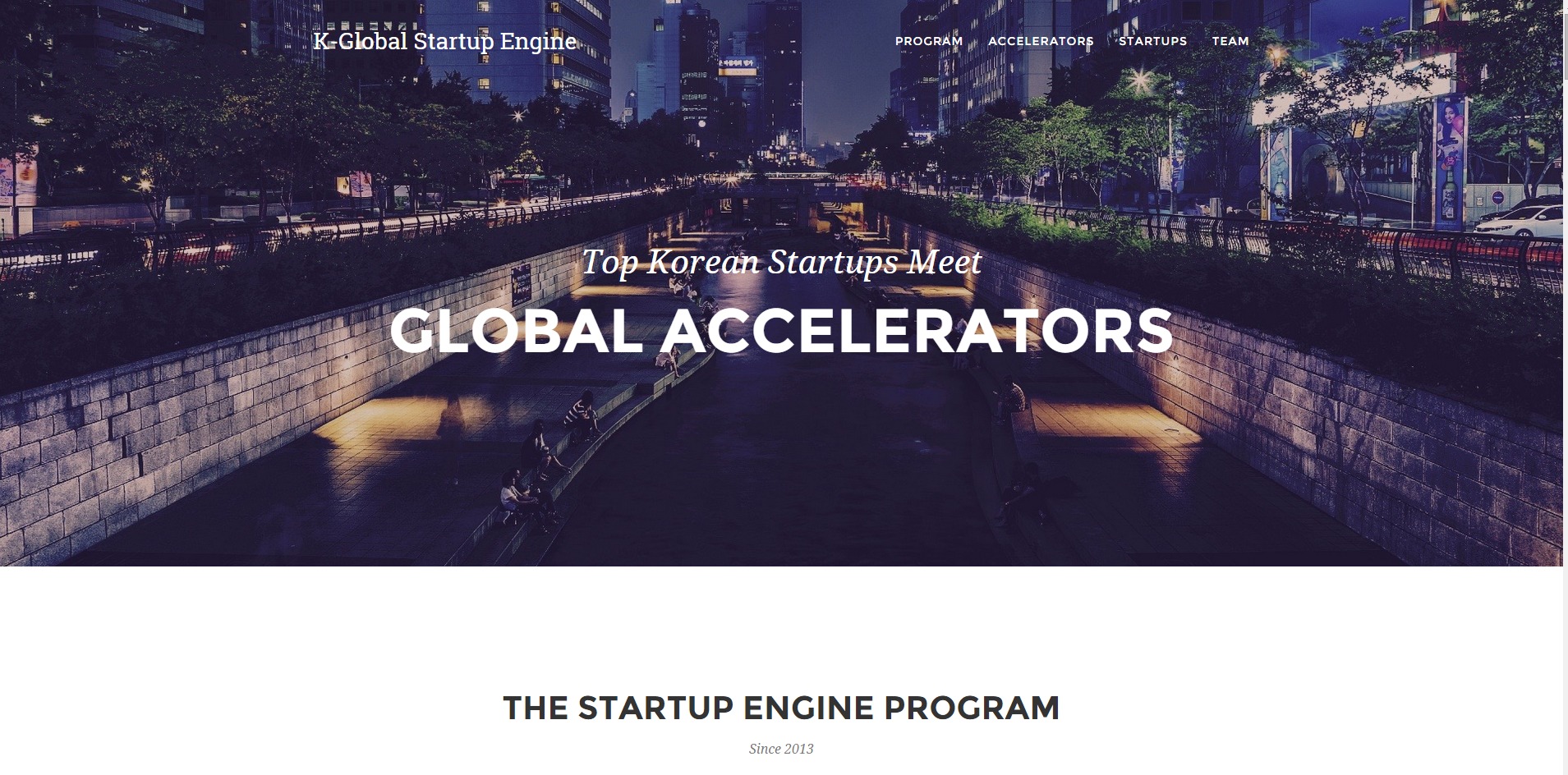 On October 21, 38 of Korea's most promising startups will pitch their innovative businesses in front of representatives from eight top global accelerators, and a live audience of hundreds at the second annual K-Global Startup Engine Demo Day.
Each of the startups in the program will deliver their pitches to judges representing the eight accelerators, for a chance at entering a top-level acceleration program. The chosen startups will also each receive a grant to cover daily expenses while at the accelerators. Each of the accelerators has a proven record for developing some of the world's best performing and most highly valued startups.
The K-Global Startup Engine Demo Day is the capstone on a four-week pre-acceleration program sponsored by Korea's National IT Industry Promotion Agency (NIPA). The aim of the program is to place as many Korean startups as possible into some of the world's most prestigious accelerators including Techstars, 500 Startups, Seedcamp, HAX Accelerator, Chinaccelerator, Startup Bootcamp, Alchemist and Open Network Lab.
These accelerators helped develop the curriculum and selection criteria for the pre-acceleration program, with an eye toward ensuring global success. Expert mentors from disciplines including entrepreneurship, finance, law, marketing, global communications and design have acted as guides through a curriculum aimed at helping Korean startups overcome the specific challenges they will face when going abroad.
Last year's inaugural program was a resounding success, placing three startups into global accelerators. Eyecatcher and SendAnywhere joined Seedcamp, while MyMusicTaste entered Finland's Startup Sauna.
This year's batch of startups and accelerators first met at a networking event on October 1 and 2, where the accelerators explained the unique benefits of their programs, and each of the startups gave a two-minute elevator pitch. At the Demo Day, they will deliver refined pitches, based on feedback from judges and mentors, as they compete for coveted spots in the global accelerators.
"For Korea to build a true creative economy, we must provide startups with the education and resources necessary for global success," said HyungKyu Lim, Director of the Global Startup Team at NIPA. "Over the course of the four-week pre-acceleration program, startups have made incredible progress. They have most certainly improved their pitch skills, but more importantly, they now have a better understanding of what it takes to build and succeed in global business."
Each of the participating accelerators will send one judge for the Demo Day. These include Eveline Buchatskiy from Techstars, Haley Kim from 500 Startups, Sia Houchangnia from Seedcamp, Benjamin Joffe from HAX Accelerator, William Bao Bean from Chinaccelerator, Norbert Sommer from Startup Bootcamp, Ravi Belani from Alchemist and Shida Schubert from Open Network Lab.
The K-Global Startup Engine Demo Day is sponsored and supported by the National IT Industry Promotion Agency. The event, as well as the larger program, is being organized by DEV Korea, Accelerate Korea and G3 Partners.
The Demo Day is a free event, open to anyone who registers on Eventbrite (English) or OnOffMix (Korean). All registered attendees will get to watch the exciting pitch sessions, and participate in one-on-one networking time with the startups and accelerators on the sidelines of the event. Journalists, investors, government representatives and other accelerators should reach out to vip@startupengine.kr for VIP tickets.
K-Global Startup Engine Demo Day will be hosted at the Renaissance Hotel in Gangnam on October 21, 2015, with the public program running from 2:30 to 6:30 p.m.. For a full list of participating startups, see the K-Global Startup Engine at http://startupengine.kr.
---