Global accelerator Startupbootcamp FinTech lands in Seoul to scout FinTech talent with D.CAMP
---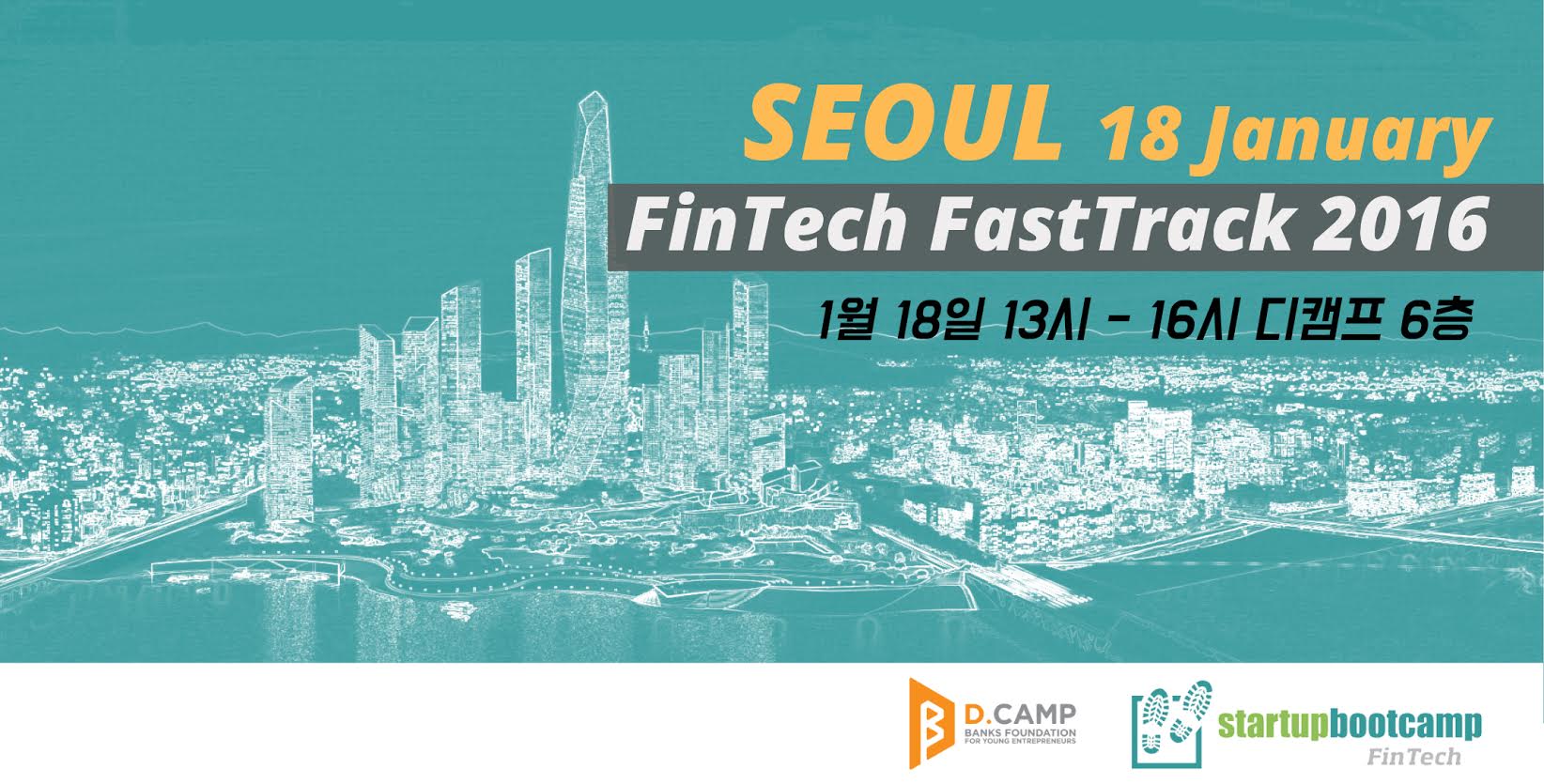 Startupbootcamp FinTech announces its FastTrack event in Seoul on the 18th of January to be held at D.CAMP. The one-day event is open to innovative early-stage companies looking for expert advice, mentorship and exposure.
Startupbootcamp FinTech is a world-leading financial innovation accelerator dedicated to helping startups scale globally through direct access to an international network of mentors, partners and investors. Attracting over 300 applications for its inaugural program in Singapore, they are on the road for their FastTrack tour which will see them travel to 16 locations across APAC.
Steven Tong, Managing Director of Startupbootcamp FinTech said "We are excited to be coming back to Seoul to hold a FastTrack event. Seoul is full of entrepreneurial talent and with government support, it has grown to become a creative startup economy. We are looking forward to meeting with local entrepreneurs and discovering how we can support them in growing their ventures beyond the Korean market."
Startupbootcamp is looking for top-notch startups to present their venture. The select group of startups will gain the opportunity to pitch before a group of expert mentors and gain valuable 1:1 feedback on their product, business model and pitching skills. This is a fantastic opportunity to meet the Startupbootcamp global network and be placed on the watch-list for the FinTech Singapore accelerator program.
Kwanghyon Kim, Executive Managing Director of D.CAMP said "Startupbootcamp has broadened the perspectives of Korean FinTech Startups since it had held the first Startupbootcamp event in Korea with D.CAMP last year. D.CAMP is happy to partner with Startupbootcamp to contribute to the growth of Korean FinTech startups to expand globally."
Who should apply?
Startupbootcamp is on the lookout for startups innovating in FinTech related technologies. In particular interesting startups specialising in:
Payments
Crypto-currencies and blockchain
Financial Inclusion
Asset Management
Capital Markets
Peer to Peer
Security & Authentification
Insurance
Lending
and everything else FinTech
Why should startups apply?
FastTrack events are a bite-sized glimpse into the value of a Startupbootcamp program. Ten startups will have the opportunity to connect with top mentors, get feedback from other startups and meet the Startupbootcamp team. One-on-one sessions with local industry experts in the finance, investment and entrepreneurial space will provide advice on how to improve their product, business model and pitching skills. By participating, startups will also gain access to the Startupbootcamp FinTech global community. After the FastTrack tour, Startupbootcamp FinTech will select 10 startups to take part in their three month intensive 2016 FinTech accelerator in Singapore.
Successful FastTrack startups join the watch list and have the potential to be selected for the Startupbootcamp FinTech accelerator program in addition to receiving:
Extensive mentorship from 200+ entrepreneurs, investors, and partners
Access to top markets in Europe, US and APAC
3+1 months free office space
SGD24,500 in cash per team
Exposure to 200+ Angels & VCs
Invitation to Startupbootcamp global alumni network and growth program
Interested startups can apply for Startupbootcamp FinTech's FastTrack here.
An evening FinTech Social event co-organised with Startup Alliance will be held at Naver D2 Startup Factory starting at 630pm on the same day. A panel led by Managing Director of Startup Alliance, Jungwook Lim and Startupbootcamp's Steven Tong will discuss the FinTech trends across APAC and the growth potential of Korea FinTech.  Interested parties find out more information in the Startupbootcamp website.
---