Use 'JANDI(잔디)', if you want effective team communication
---
JANDI(잔디) was created to resolve problems that arise from inefficient communication within an organization. To solve the problem, JANDI combined messaging and file sharing systems into a single platform. JANDI has raised a seed round of funding from global investors such as SoftBank Ventures, Cherubic Ventures, etc.
Since then, JANDI has grown at a rapid pace, with offices also established in Japan and Taiwan. There are currently 30 employees working at JANDI Korea.
Toss Lab, Inc.(토스랩), the provider of JANDI service, decided to appoint Dan Chan as CEO, taking place of former CEO, Young Bok Lee. The reason for such change was due to the expansion of JANDI across Asia. JANDI's management team believes that this decision will help both Dan and Lee to focus on their expertise and thus increase productivity.
Here's the interview with the co-founders of JANDI.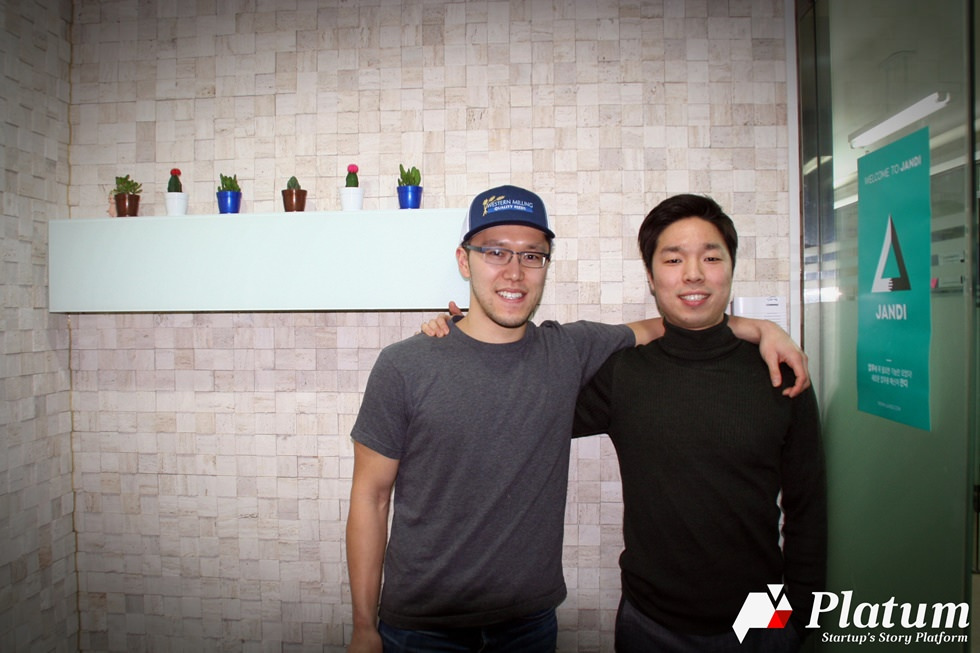 Q: Please introduce yourself.
Lee: I started my own business after working for 6 years at Samsung. People call me as YB at work. I will be stepping down from CEO role of JANDI soon, and Dan will take the position instead. There are four people in the management team. It is Dan, Young Geun Choi, Hyun Sung Shin, and myself. Young Geun Choi is the CTO and Hyun Sung Shin is our advisor and co-investor. The team has been established February 2014.
Dan: Hello, I am Dan and I will soon take over the role of CEO. I am a Chinese-American raised in California, and since both my parents are entrepreneurs, I have always envisioned starting my own business. I studied Finance and Marketing in college, then worked at Moelis & Co. and Texas Pacific Group. While working at these companies, I founded a finance-related startup in Los Angeles. Then my path crossed with Toss Lab.
Q: Please tell me about JANDI briefly.
Dan: JANDI is a group messaging service providing efficient collaboration features. It is optimized for companies in Asia. In addition to the messaging function, JANDI offers file sharing and archiving, and searching function just like N Drive or Dropbox. Also, you will be able to search through message histories soon. What makes JANDI different from Google or Dropbox is that JANDI is a collaboration tool. It is more useful in a group-oriented setting, than when users use it alone. There are currently more than 3,000 teams using JANDI.
Q: How did you start JANDI together?
Lee: I met Young Geun Choi, CTO, when I was taking courses at Fast Track Asia, and I was introduced to Hyun Sung Shin. Since Dan was friends with Hyun Sung, Hyun Sung introduced us to each other.
Q: What made you start JANDI.
Dan: While looking into mega trends, I found potential in the SaaS market. There are two reasons why I thought so. First, companies are using various applications already. Second, sharing programs such as Dropbox are widely used, but at the same time, personal messengers such as Line or Kakaotalk are used at work as well. So then I thought, "Why don't we merge it all?" Then I realized that most companies communicate inefficiently and that communication and collaboration takes up about 60% of their work. The most commonly used external channel is email but it is not suitable for urgent situations since it takes on average 24 hours to be read. Meanwhile, groupware has poor usability since it is too focused on having as many functions as they can.
Lee: So based on the mega trend, we set our goal as reducing the gap between function and feature for improved usability.
Q: What is JANDI's business model?
Lee: Users can use JANDI for free up to 5GB of storage. Of course, there aren't any initial registration fees. Besides larger storage, we are planning on adding more services for paying users, such as better security and administrative panel.
Dan: Since there isn't a huge difference between Premium and Enterprise versions, we will improve the pricing plans after defining it more clearly.
Q: I heard that JANDI raised $2.1 million of seed funding. Was there anything special about this round?
Lee: Although the size of the round was as large as a Series A round, it was our seed round. Also, it was raised in the form of a convertible note, which is a common practice in the US. Convertible notes are issued when the value of a company isn't measurable. Perhaps this differentiates us from other companies.
Q: What was your main focus after your seed funding?
Dan: People first. Then infrastructure and development.
Lee: I believe our key to such rapid growth was our human resources strategies. There never be a second chance in bringing the best on board.
Q: Are there any plans for further investment?
Dan: We don't yet, since we just closed seed round. However, there will be additional round of investment within this year.
Q: As a team that has successfully raised funding from foreign investors, do you have any advice for other startups?
Dan: Do not jump into the assumption that foreign investors aren't interested in Korean startups. To be honest, they always want to invest in the Korean market only if they have the chance to. It's because Korean companies have a strength in R&D and have a lot of open opportunities. Furthermore, foreign investors tend to think of Korea as a stepping stone for penetrating the China and Southeast Asia markets, because Korea has high technological skills with lower risks. In the other words, Korean market is very attractive to foreign investors. JANDI had advantages, because it is a B2B tech company targeting the global market.
Lee: Korean startups are receiving a lot of attention in Silicon Valley already. The atmosphere is very positive. Therefore, be confident.
Q: Why did you two switch roles?
Dan: Typically, when the management changes, people tend to think that there must have been an issue. However, that is not the case for us. The number of employees has grown from 10 to 30 in 3 months. So we discussed and agreed to focus on what we can each do best. Young Bok was in charge of the domestic market while I was in charge of the international market. It was a natural result since we were moving to expand more into the Asian market.
Lee: We all agreed that we need new leadership to move on to the next level. So after management meeting, Dan was suggested as the next leader because we believed that Dan has the type of leadership that JANDI needs now.
Q: Tell me about JANDI's company culture.
Dan: Diversity is one of our strengths. We are very well-balanced. We had to be diverse because we have offices in Korea, Taiwan, and Japan. We barely had any problems operating offices in three countries, due to having such a diverse team. Also, Young Bok and I both believe in 'First in, Last out'. We do things before we ask people. But thankfully, I don't need to ask them most of the time.
Q: What is your ambition and future plan?
Dan: On the business side, we value our customer feedback. We are planning on compiling all data and creating a roadmap based on the feedback. We are not targeting only the Korean market, so we will collect feedback from various Asian countries and come up with an optimized system, in which we will use to penetrate the China and Southeast Asia markets.
On the development side, we are going to focus on usability. Users will be able to use emoticons, check whether members read the message or not, and check the progress of their projects. Also, we are trying to develop message searching and enhancing the level of security. We are also considering integration with 3rd party applications instead of developing all features in-house.
Lee: We are going to enter the Southeast Asia market this year. If we deliver our value proposition well, we can improve work environment and productivity. I am confident, because we are very satisfied with the service as we are using it. Personally, I believe that many company culture-related problems at Korean companies derive from poor communication. We hope to improve company culture with better communication, and we wish to directly bring about change. That is our mission.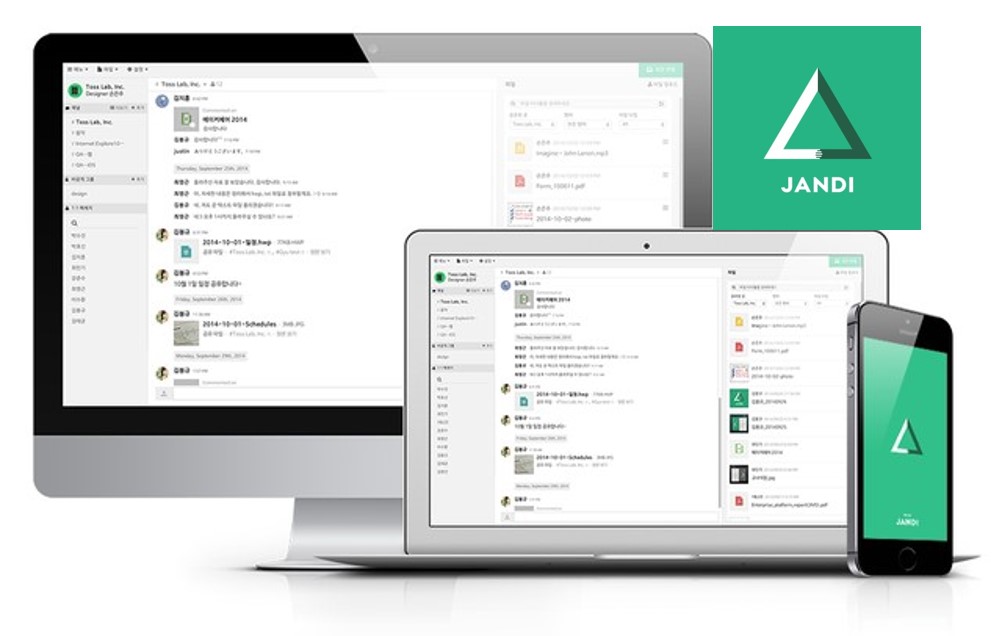 ---