iFind – The World's First Battery Free Item Location Tag
---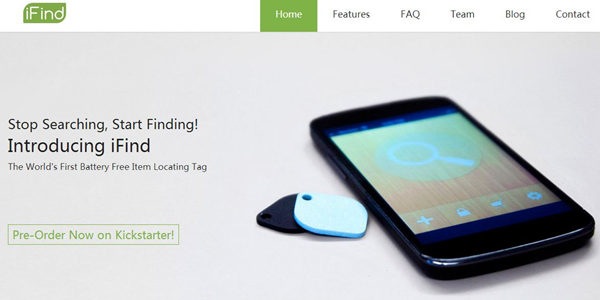 Misplacing your belongings can be frustrating. The hours spent finding the misplaced items can be even more infuriating for the souls as you think of how the time can be utilized more productively.
iFind, the World's First Battery Free Item Location Tag, helps you ease the pain by saving you the time and frustration of trying to locate your misplaced item. Plus, your mental brain is also liberated from intense thoughts of "where did I last put it?"
Item-locating hardware devices in the market, like iFind, ideally aim to aid you in the misadventure of finding back your misplaced items. All these by connecting to an app on your mobile phone.
Sounds easy enough?
However, what makes iFind stand out from the crowd is that it requires absolutely no battery to function.
Developed by WeTag, iFind collects its power from ambient electromagnetic sources, such as Wi-Fi transmitters or mobile phone antennas. The power attained can be converted into enough electrical currents and stored in a power bank in iFind, which simulates a battery that continually supports a Bluetooth 4.0 Low Energy (BLE) radio.
Simply turn on the bluetooth on your mobile phone and connect to iFind, download the iFind app and enter the tag ID to start enabling location tagging.
In the case of misplacing your item tagged with iFind, open up the iFind app on your mobile phone to start locating the item. The tag would then let off beeping sound upon detection.
And, if you lose your phone, no worries. Shake the iFind tag and your mobile phone will ring. It goes both ways!
What is more – iFind comes in a dainty, square-like tag (32 x 27 x 2.4mm) with various stylish colors for users to choose from to attach it to your personal items. The maximum range from your mobile phone to the tag is approximately 60 meters within line of sight, or 50 ft depending on the environmental conditions.
The WeTag team spent one good year developing iFind and the results has been rewarding. First launched in Kickstarter, the team has since raised over US$200,000. The first shipment of iFind tags can be expected at sometime October this year.
Huiyi Lee / Tech and communications enthusiast based in Beijing.
Source : iFind – The World's First Battery Free Item Location Tag
---