SYNC 2014 Seoul: The Power Of East Asia
---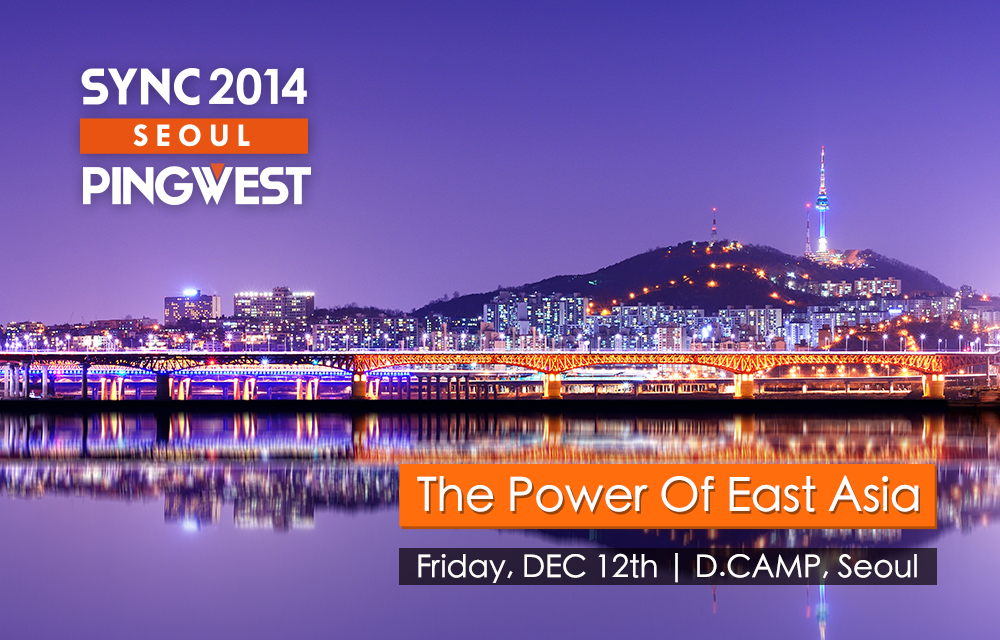 South Korea's impression upon us the past dozen years has been remarkable. In our driveways, pockets, living rooms. They're achievements in technology have been deserve celebration.
Samsung, LG, Hyundai, Korean Air are all driving forces for the economy which ranks 15th globally, and a GDP per capita placing it in the top 6th. Technological innovations, entertainment, film, gaming, television all intertwine to build a strong creative breeding ground.
Not to be overlooked are young Korean companies which have sprung up—KakaoTalk and other leading social networks; Smilegate and other imaginative gaming companies providing Seoul with its own kind of light. Elegant O2O platforms and accelerators taking these entities global support business and further add to South Korea's achievements.
How do Korean entrepreneurs match needs with resources? Where are China and Korean already collaborating? We at PingWest don't believe that Chinese and Korean needs and resources are aligned nearly close enough, which is why Sync Seoul 2014 is in the works.
Join us December 12th in Seoul where Korean media, incubators, founders, partners and friends can keep the dialogue rolling.
See you there.
Agenda 
1:30-2:00 Registeration & Networking
2:00-2:10 Opening Remark
2:10-2:50 Part one: Social
2:50-3:30 Part Two: E-commerce
3:30-4:10 Part Three: Game
4:10-4:50 Part Four: Going Global
4:50-5:30 Networking
4:10-4:50 Pa
Speakers
Speakers are coming from KakaoTalk、4:33 Creative Lab Meilishuo、Sparklabs etc
PingWest /SYNC
PingWest is the leading tech media based in Beijing and Silicon Valley. 
Website in China: http://www.pingwest.com/
Website in SV:http://en.pingwest.com/ 
About SYNC 
SYNC, PingWest's flagship annual conference, aims to gather the world's sharpest minds and hottest startups together in one event. The conference focuses on the knowledge and networks necessary to build leaner, smarter and more disruptive startups.
Join over 300 other visionaries, including global entrepreneurs and investors, in a day of expert panels and fireside chats as well as key networking sessions.
About SYNC events
SYNC San Francisco: http://sync2014sf.pingwest.com/
SYNC Beijing: http://sync2014bj.pingwest.com/
---