GOOGLE DEEPMIND'S ALPHAGO DEFEATS LEE SEDOL AT GO IN CLOSE FIRST GAME
---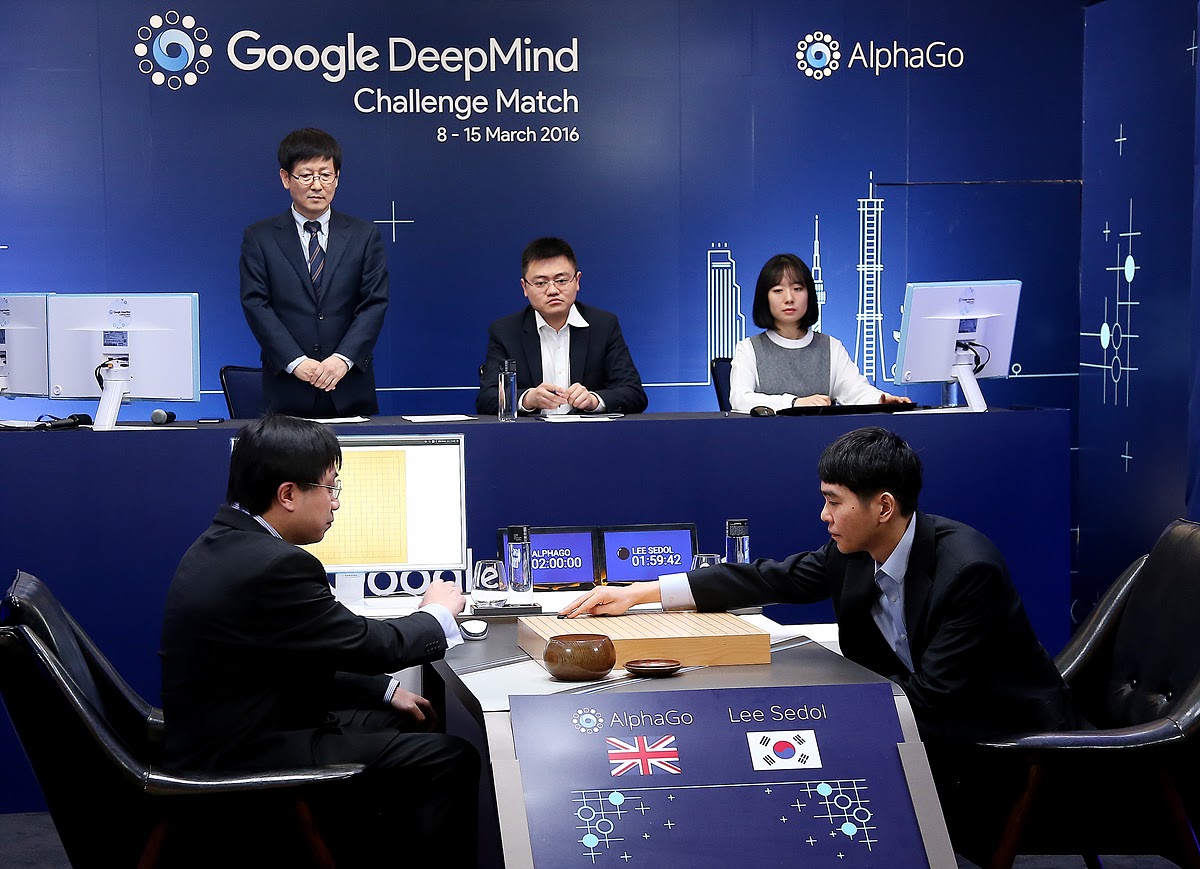 At today's first game in the Google DeepMind Challenge Match, the Go-playing computer program, AlphaGo, defeated the best Go player of the last decade, Lee Sedol. AlphaGo won by resignation after 186 moves. While there are still four games left in the Challenge Match, this marks the first time in history that a computer program has defeated a top-ranked human Go player on a full 19×19 board with no handicap.
Go has been viewed as one of the hardest games for computers to master due to its sheer complexity. There are roughly 200 possible moves for a given turn compared to about 20 in chess, and more possible board configurations than the number of atoms in the universe. DeepMind first released details of AlphaGo in a paper published in the scientific journal Nature last month.
The exciting first game looked to be neck-and-neck for its entirety, filled with complex fighting on both sides. Lee Sedol made very aggressive moves, but AlphaGo never backed down from the fights. AlphaGo was down to 5:30 of its time, compared to Lee Sedol, who had 28:28 left on the clock.
Demis Hassabis, Co-Founder and CEO of DeepMind, said, "What an incredibly exciting game. Lee Sedol is a formidable opponent, famed for his fighting style, and AlphaGo decided to go toe-to-toe with him, which made for a tense, close-fought game. We still have four games to go, so anything can still happen. Whatever the outcome, we feel this match is a testament to the power of human ingenuity."
Lee Sedol said at the post-game press conference, "I would like to express my respect to Demis and his team for making such an amazing program like AlphaGo. I am surprised by this result. But I did enjoy the game and am looking forward to the next one."
The winner of the Challenge Match must win at least three of the five games in the tournament, so today's result does not set the final outcome. The next game will be Thursday, March 10 at 1pm Korea Standard Time, followed by games on Saturday, March 12, Sunday, March 13, and Tuesday, March 15. The matches will be played under Chinese rules with a komi of 7.5 (the compensation points the player who goes second receives at the end of the match). Each player will receive two hours per match with three lots of 60-second byoyomi (countdown periods after they have finished their allotted time).
---